Dental Implants
At Collingwood Dental Centre, our dentists have been placing dental implants for over 15 years. Dental implants are part of the process to replace a missing tooth and leave you with a natural-looking smile.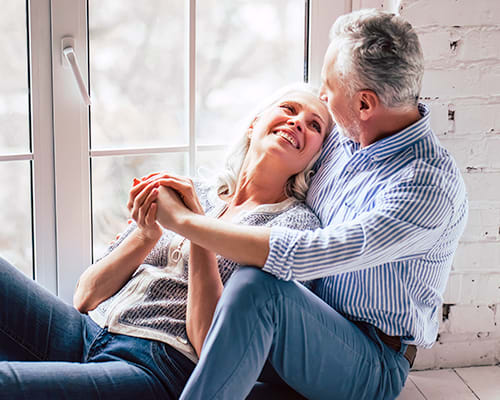 What is a Dental Implant?
A dental implant is a small titanium root that can replace a single lost tooth or multiple missing teeth.
At Collingwood Dental Centre, the first step is a comprehensive evaluation of your oral health, your medical status, and in most cases, a dental CT scan is required to understand the anatomy of the area we are dealing with.
We use virtual reality software to plan your case and sit down with you to show you the proposed result. A surgical stent is created from this software so that the implants are placed precisely and in the ideal position.
Dental implants can help to prevent surrounding teeth from becoming misaligned, resolve bite issues or jaw joint pain, and restore facial appearance and tissues.
Contact us for a complimentary virtual demonstration of this software and the dental implant process.
Why Replace Missing Teeth
Teeth surrounding the space left by a missing tooth may begin to move out of place and cause misalignment issues. The jaw bone around the area may also begin to deteriorate, resulting in facial collapse or negatively impacting your ability to speak and chew.
The Dental Implant Procedure
This procedure requires a tooth replacement and dental implant (titanium screw). Your dentist will start by surgically placing the implant into your jaw bone, underneath the gum tissue. As the tissue heals, the implant will bond with the bone and attach to the gum.
Once healing has taken place, generally 3 to 6 months post-surgery, patients return to our office to have the procedure completed.  
During this final appointment, your dentist will attach a tooth replacement, such as a dental crown, bridge or denture, to the implant to ensure it looks and functions like a natural tooth. 
Dental Implant FAQs
Read the answers to our most frequently asked questions about dental implants at Collingwood Dental Centre. 
Nobel Implants
At Collingwood Dental Centre, we're pleased to offer Nobel dental implants to patients. The Nobel All-on-4 procedure gives our Collingwood patients fully functional and natural-looking tooth restorations that aspire to last a lifetime.
Click the images in the gallery below to learn more about Nobel dental implants.